A Checklist for Hiring the Very Best Talent
by Sajjad Masud
Filed under: Attraction & Retention
When your business is rapidly scaling and company operations are in full swing, it's easy to get caught in the daily routine and lose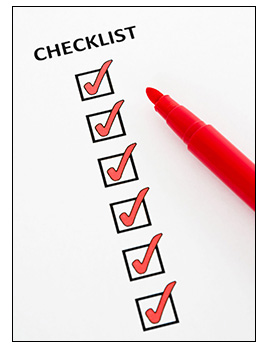 sight of some of the fundamentals affecting your company's performance.
Bringing the right people on board and filling your open positions fast are perhaps the most important things your team needs to do on a regular basis, as you scramble to meet your company's growth demands. It is, therefore, critical that you take a moment to review your current methodologies and technology infrastructure supporting some of your most vital operations.
In the case of talent acquisition, here is a checklist for your hiring campaign to make sure you are covering some of the key areas and are equipped to find the best talent for your company:
Brand your career site
Before you start looking for the best candidates, think critically about what story your company career site is telling. Does the site look out of date? Does it fit into the scheme and design of your overall website? The career site is often the first thing upon which candidates will judge your company. You want it to impress them.
Make sure your branded career page fits the rest of your website and sports a clean and attractive layout. As you know from interviewing candidates, a first impression can leave a lasting impact. Make sure your career page is setting you forth on the right foot.
Extend your reach with social media
Social media is increasingly important in our everyday lives. People use Facebook, Twitter, and other social media channels to share their opinions and connect with like-minded individuals.
As a company looking to attract the best candidates, you cannot afford to ignore your company's social strategy.
You can be sure that many of your competitors have already hopped on the social bandwagon. This year, social media is estimated to play a role in recruiting for about 80 percent of all open positions. By engaging with talent on social media and promoting your jobs across all your social platforms, you will be able to get your jobs in front of a large pool of qualified candidates that are looking to their networks for new opportunities.
Pay attention to analytics
Staying on top of key metrics and recruitment analytics is an important part of your hiring strategy. With analytics, you can keep track of your open positions, see how many candidates have applied, and even see how long it takes your company on average to complete each step of the hiring process.
A next-generation recruiting platform will also show you the exact source of each candidate. Why waste time posting your job descriptions to endless job boards if the best candidates are only coming from Facebook and Twitter? Analytics can help your company focus your hiring efforts and allow you more time to connect with top talent.
Collaborate with your hiring team
In every step of the hiring process, collaboration is necessary to find the right people. Your hiring team should be empowered to share candidates, evaluations, and ideas, all of which are made easier through effective collaboration.
An intuitive next-generation recruiting platform can make collaboration and applicant tracking easier for your company by making it simple for the whole team to access relevant information from anywhere. In addition, different stakeholders can be given access to only those areas relevant to their work — so they can participate in the workflow from wherever they are and take quick action to keep the process moving forward.
When it comes to hiring the right talent for your enterprise's open positions, a collaborative team effort is likely to bring the best results.
Snap up the best candidates fast
According to the Job Preparedness Indicator, only 17 percent of employers are finding candidates with the right skills for their open positions. When it is so hard to discover candidates with the right skill sets, you can bet the best candidates do not stay on the market for long. Quickly making an offer when you find the right talent for your company is one of the most important reasons to streamline your hiring process and stick to your checklist.
The best candidates will not wait around forever for your company to make an attractive offer. Odds are your competitors have seen what you are seeing. Focus on streamlining the hiring process now, so you can make an immediate offer when the right talent comes along.
Keeping to your checklist can help you focus on the important aspects of your hiring campaign and cut out the fluff. Taking the time to review your recruiting methodologies and technology infrastructure will help you make sure your hiring process is equipped with the capabilities your company needs to succeed.
Sajjad Masud is CEO and co-founder of Simplicant, a cloud-based social recruiting platform transforming talent acquisition and making enterprise-level recruiting technology accessible to companies of all sizes. Connect with Sajjad at sajjad.masud@simplicant.com.
---
The Loop Archives
Health Care Reform
Wellness
Training & Leadership Development
Productivity
Performance Management
Engagement
Communication
Benefits
Attraction & Retention
Absenteeism/Presenteeism